hello.
i just decided that since im not posting it in the page
i might as well post it here.
here, have a colored apfel and orangen.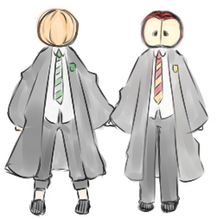 it's the first time ive colored them actually.
i like keeping them in black and white but i desperately needed to see Orangen in slyTHERIN COLORS YO.
My child is such flickity flacking Slytherin I flacking can't. 
I thought about sorting him into Ravenclaw 'cause he's quiet and all that shizzle.
BUT NO OH MY GOODNESS GRACIOUS SLYTHERIN JUST POPPED UP AND WOAH. HE CAN BE A QUIET, STUDIOUS DUDE IN SLYTHERIN.
THEN I REMEMBERED AFTER DECIDING TO PLACE HIM THERE
OH MY GOD HE BECOMES REALLY BOLD AND SNEAKY WHEN HE GROWS UP.
AND HE HAS THIS IMPISH SORT OF GRIN SORT OF
GOODNESS GRACIOUS IT'S A FRUIT IT DOESN'T HAVE A FACE BUT U KNO WHAT I MEAN
anyways yeah. slytherin orangen man. wants to slytherin that apfel arse.
also i thought about placing him in gryffindor as well but i suppose no.
OK BUT CAN WE TALK ABOUT HOW AESTHETIC APFEL LOOKS IN GRYFFINDOR COLORS. and there wasn't any question about sorting Apfel in Gryffindor lol. he's such a gryffindor i swear.
anyways bye im a nerd pls get away from me and my nerd germs.