i have no idea what to call the ship name for adan and sibyl. so let us just call the ship name Emporia after the country/capital/idk i should re-read the story lmao.
so i watched the 2014 Vienna State Ballet's Swan Lake.
take it in mind that this is the first time i watched the whole ballet (ive listened to the suite a lot but never really got down to watch the ballet) so yes. i came for petya's music but stayed for the dancing. and music. and story. and basically everything. i wasnt invested in the story at first but darn diddly doo boy. it was quite nice actually. (seigfried died alone in this version by drowning to his death lmao)
the costumes were absolutely superb. it was all very toned down colours matched with white, silver, and bronze/dull gold. very beautiful and aesthetic, i marvelled at the costumes of the common folk. the swans were all right but i prefer the colour of the people.
the dancing was lovely!! i was very amazed at how lightweight and free and delicate they all looked like. ballet is quite wonderful in that way. i never cease to be amazed. this production seemed to be very put together. ive watched the pas de quatre for dance of the cygnettes a lot and this seemed to be the first time ive seen the head tilting actually not look like a disaster.
anyways rant's getting too long. yesterday i made a doodle of sybil in an outfit inspired by the costumes in the ballet (internet was down for an hour i had nothing to do) and today i was like. eh. let's do adan.
then bam.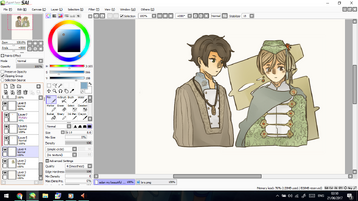 so anyways. im here to swan lake au. adan as seigfried. sibyl as idk. adan's father as the swan maybe lmao. i havent thought this out obviously. basically, the plot of sorcery is for saps except swan lake idk.
idk indeed i should go think this through tchuss